Hyperpigmentation
Hyper-pigmentation can occur, also called 'age spots' or 'sun spots', these are flat, dark marks on areas of the skin frequently exposed to the sun. This is due to excess pigment being formed in certain areas of the
skin, it is a fairly common complaint in fairer skin types. Please see our Hyper-pigmentation page for more information.
Hyper-pigmentation can be corrected either by the use of Chemical Peels and/or Cosmeceuticals. 
AlumierMD Clear Sheild SPF 42 
A lightweight non-comedogenic sunscreen that provides powerful broad-spectrum protection against
harmful UVA and UVB rays using a combination of zinc oxide and titanium dioxide, both physical
filters. Niacinamide (vitamin B3) and sodium hyaluronate soothe and moisturise, while free radical
quenching antioxidants, including a stable vitamin C, vitamin E, resveratrol, grape seed extract and
glutathione protect skin from UV damage. Light in texture, gentle and quick drying, this sunscreen is
ideal for all skin types, including oily, redness and acne prone skin.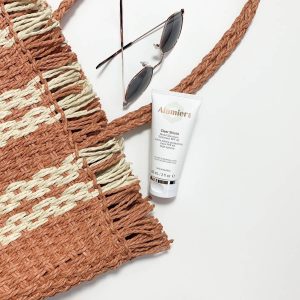 Volume Loss
Over time the plump layer of tissue on the back of your hands diminishes, allowing veins and tendons to become more visible.
Filler can be used to restore the volume loss, add structure to the skin and smooth out lines and wrinkles.
The Radiesse® filler is FDA approved. Its safe gel formula contains calcium microspheres (CaHA) which stimulate the production of the skins natural collagen, the results can last up to 12 months, however individual results may vary.