Excess Fat
There are generally two types of fat storage:
Visceral – This fat surrounds and protects our organs.
Subcutaneous – This sits just beneath the skin and makes up about 80% of all body fat. This type of fat is what can make you look overweight.
The Perfect Skin Solutions team can vouch from personal experience that despite a healthy diet and exercise, there can be stubborn pockets of fat under the skin, which just do not want to shift. Factors such as previous pregnancy can exist as well. We offer a solution cheaper than surgery which actually destroys fat cells and shrink them. If you can adopt a healthy lifestyle (we have plenty of advice we can give you in this regard) then results should be long-lasting. A course is normally advised to get maximum results but you can have less if you wish.
Before & Afters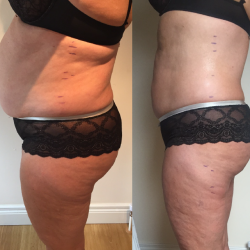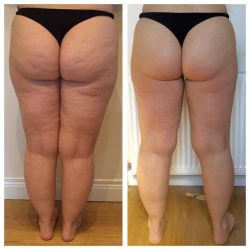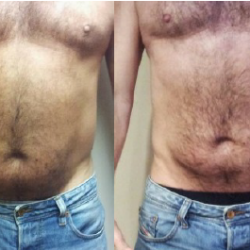 Excess Fat FAQs
When will I start to see results?
Lipofirm is focused RF energy that heats the collagen fibers causing them to contract, resulting in immediate skin tightening and smoothening. In addition, fibroblasts' metabolism is accelerated leading to collagen regeneration and long term skin tightening and firming. There will be an instant affect but a course is needed to see a noticeable difference.
With Cristal the results are not immediately visible after the treatment because the fat cells are gradually eliminated from your body through the immune system. At about 4-6 weeks, you will begin to see results, but you will continue to eliminate the fat up to 3-4 months after the treatment.
Mesotherapy the results vary depending on your body type and the condition being treated. On average, patients notice visible improvement in two to three sessions. For certain conditions, patients see results after the first session.
O.F.F, Results are usually seen immediately but will maximize over 48 hours. maintenance treatments are recommended every 3 years.
How long will the results last for?
After only six to eight weeks the results are permanent for all treatments, Once the fat cells are gone from cristal, Mesotherapy and O.F.F, they are gone forever. Lipofirm the liquid fat is squashed out of the cells and released  into the extra-cellular matrix and removed by lymphatic drainage never to return.
However a patient is still able to gain weight from their other fat calls dependant on their lifestyle choices, as well as other body factors beyond their control eg hormonal. Therefore, it is impossible to give an absolute guarantee to any individual how long it will last for because we cannot control these other factors.
What are the side effects?
The treatments are quick, relatively painless and side effects are mild, such as redness, temporary soreness, swelling, small bruises and a feeling of numbness in the treated areas. For Lipofirm the DMA (Dynamic Muscle Activation) contracting the muscles may feel odd and a prickling sensation with heat from the RF. These effects will naturally disappear within hours or days following the treatment however you will be able to continue with your daily activities.