We have created this website page to give you some information on our policy in these times of hardship for our patients. The Coronavirus also known as COVID-19 has affected everyone worldwide many of us have had to already make some significant changes to our lives.
In an effort to be part of the solution rather than part of the problem, we have closed our clinic doors at Perfect Skin Solutions. In some ways this was an easy decision to protect our Perfect Skin family; in other ways, very difficult as we are already missing each other, staff and patients alike.
We want to reassure you we will be back when it is safe to do so and will keep in contact with you all on this page and via email. If you have any specific questions please do email us on info@perfectskinsolutions.co.uk. See below for answers to some questions which you may have regarding your treatments.
Continue to look out for updates across our social media platforms:
Instagram: perfect_skinsolutions       Facebook: iwantperfectskin        YouTube: perfect__skinsolutions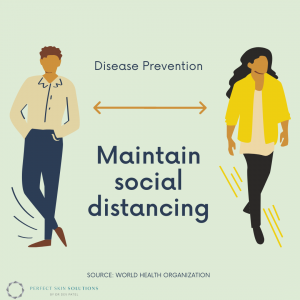 Can I still have an Aesthetic consultation?
Yes, Dr Patel will be offering video consultations. To book please email info@perfectskinsolutions.co.uk. We will come back to you and book  in a time that suits.
I have a treatment package which I can't use due to the closure. What will happen?
Do not worry we will freeze your package so you will still be able to use all of your treatments.
I missed my review for my injectable treatment. Can I still have this?
Yes, we can do reviews via Facetime, Skype or Whatsapp call. If further treatment is required, this will be discussed.
I have run out of my skincare products. Where can I buy them?
Our AlumierMD skincare products are available to purchase through an online portal. The website is www.alumiermd.co.uk/join. You will need to use a code which we can email to you. This is only for patients who have already received a tailored package from us. If you are new to AlumierMD you can arrange a call with Dr Patel to ensure you are started on the correct regime for your skin. For Tebiskin products, please email info@perfectskinsolutions.co.uk and we will try our best to arrange this.
I have a question. Where do I send it to?
Please send us any questions you might have to info@perfectskinsolutions.co.uk and we will answer as soon as we can.