LATEST LOCKDOWN UPDATES HERE
After PM Boris Johnson's recent announcement, we will be opening up our diaries to all treatments as of the 12th April. Please understand that this may change depending on any further government guidance, but we will continue to keep you updated on any further changes.
As always, if we have NOT contacted you regarding a pre-booked appointment, please assume it is in place. We will aim to call ALL patients for final a COVID-19 screening.
'As a clinic, we are following advice from our professional bodies. Some of these bodies have direct communication links with the Department of Health, thus giving us assurance that what we are doing is indeed appropriate and within the law. Our medical model of practice – reinforced by the fact that we are a CQC-registered medical clinic – allows us to continue to offer many, if not all, of our services.  
The only additional measure we would like to advise you of is that if you have a face-to-face consultation or review booked, we are happy to offer you a virtual visit instead (by video link) if you prefer. Simply email or call us with at least 24 hours notice so we can arrange this for the same time and day.   
We continue to follow our strict COVID19-secure measures to keep the risk of cross-infection to an absolute minimum.  
Please continue to monitor your email inbox but you can also check here, on our website, for updates. We will remain open and see you as planned unless you hear from us otherwise. We will keep you updated. '
– Dr Dev Patel
 ________________________________________________________
As a CQC-registered healthcare provider of skin and podiatry services, we are currently open.
The clinic is open to provide treatments to our patients in a COVID-19 secure environment. To ensure the safety of our patients and staff we have introduced the following measure.
Please wait at the door, we have a no-touch policy from when you are outside the clinic – read the clear notice in the door window and simply follow our instructions
For drivers, please follow our "Stay in my car" policy: wait in your car and we will call you when we are ready for you. If it gets to 5 mins past your appointment time and you have not heard from us, come to the clinic door
If you are not driving, kindly arrive no more than 1 min before your appointment time. If you are early, please expect to wait outside till we can invite you in
Please DO NOT knock on the door (unless you feel you have not been seen) – our team will invite you in when safe to do so
We do have facilities set aside for you to wait in relative isolation but ideally, our process will allow you to be escorted directly to your practitioner's room. Some of our elderly or physically disabled patients may need to come and use our waiting room so we need to try and keep all other patients away from this area as much as possible
If you have your own mask, please arrive with this already on
If you do not have a mask, we can provide one at reception, but we ask that you pay £1 towards our charity fund
We will provide you with alcohol hand gel and will take your temperature on arrival
You will be asked to wash your hands when you arrive in your treatment room.
Our patient toilet remains open but we ask that you use this facility only if absolutely necessary. Toilets have been highlighted as a key risk area for cross-infection of COVID-19
We ask that you avoid talking at any time if your mask is off your face. Discussion about your treatment will take place prior to you having to remove your mask. For non-facial treatments or upper face Botox, you will be able to keep your mask on
Thank you for your patience so far. We have been working flat out to get the necessary equipment, PPE and protocols in place to be able to confidently re-open Perfect Skin Solutions clinic. We have also been in touch with bodies such as SAVE FACE and The British College of Aesthetic Medicine, to ensure we meet the specific safety guidelines laid down for clinics such as ours.
---
As a CQC-registered medical clinic, we could have legally remained open throughout the lock-down period, offering medical services only. However we felt closing during the last 2 months, was the correct decision to take and most clinics of this nature have done the same throughout the UK. We will keep in contact with you all on this page and via email. (If you are not receiving our emails please let us know). If you have any specific questions please do email us on info@perfectskinsolutions.co.uk. See below for answers to some questions which you may have regarding your treatments.
Continue to look out for updates across our social media platforms:
Instagram: perfect_skinsolutions       Facebook: iwantperfectskin        YouTube: perfect__skinsolutions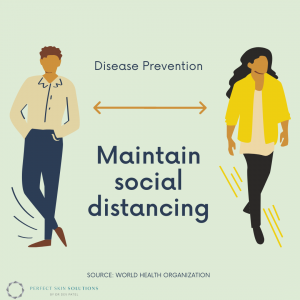 I have a question. Where do I send it to?
Please send us any questions you might have to info@perfectskinsolutions.co.uk and we will answer as soon as we can.