LATEST LOCKDOWN UPDATES HERE
IgG Tests Currently Paused. PcR Tests still available
Some of you may have seen in the news, that all laboratories – including the one we use – who are running COVID-19 Antibody testing have been asked to pause from providing a self-collection COVID-19 Antibody service. This is because a national review is being carried out by the MHRA around the positioning of self-collected blood samples for COVID-19 Antibody testing. This review does not, therefore, impact in any way on the taking or reporting of venous samples (SST / Serum) or COVID-19 PCR (Swab) testing. We must emphasise that we use one of the biggest national labs and have been using this company for other medical blood testing for a number of years.
During this pause, we will not send out any more packs for self-collected COVID antibody tests. Further updates will be posted here and emailed via our newsletter list. Email info@perfectskinsolutions.co.uk to be added.
CORONAVIRUS TESTING NOW AVAILABLE!
We emailed all our patients on 13th May to inform you that we can offer HOME testing for both the SARS-CoV-2 virus and also the IgG antibodies to it. The most popular test has been the IgG test and we have chosen one that has 100% specificity. We are not aiming to profit from this and it is only 95 pounds. (PCR test is 195). If you wish to have more information or request the test please email us at info@perfectskinsolutions.co.uk and we will respond with a document that will guide you through the process.
The big question is "when will you reopen?" We are working hard to get all special measures in place to allow us to receive patients into an environment that keeps cross-infection risk to a minimum. As a skin and foot clinic we have patients with differing needs and we must first focus on getting medical cases dealt with. We also have a long list of patients whose appointments were cancelled during the lock-down period. We envisage us treating high clinical priority as well as low-risk patients (risk based on treatment being delivered) in latter June and gradually opening up most if not all our services from 4th July.
As a CQC-registered medical clinic, we could have legally remained open throughout the lock-down period, offering medical services only. However we felt closing during the last 2 months, was the correct decision to take and most clinics of this nature have done the same throughout the UK. We will keep in contact with you all on this page and via email. (If you are not receiving our emails please let us know). If you have any specific questions please do email us on info@perfectskinsolutions.co.uk. See below for answers to some questions which you may have regarding your treatments.
Continue to look out for updates across our social media platforms:
Instagram: perfect_skinsolutions       Facebook: iwantperfectskin        YouTube: perfect__skinsolutions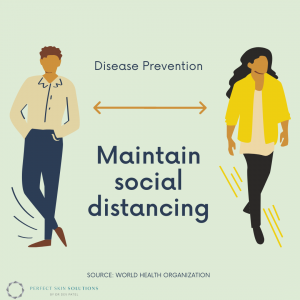 Can I still have an Aesthetic consultation?
Yes, Dr Patel will be offering video consultations. To book please email info@perfectskinsolutions.co.uk. We will come back to you and book  in a time that suits.
I have a treatment package which I can't use due to the closure. What will happen?
Do not worry we will freeze your package so you will still be able to use all of your treatments.
I missed my review for my injectable treatment. Can I still have this?
Yes, we can do reviews via Facetime, Skype or Whatsapp call. If further treatment is required, this will be discussed.
I have run out of my skincare products. Where can I buy them?
Our AlumierMD skincare products are available to purchase through an online portal. The website is www.alumiermd.co.uk/join. You will need to use a code which we can email to you. This is only for patients who have already received a tailored package from us. If you are new to AlumierMD you can arrange a call with Dr Patel to ensure you are started on the correct regime for your skin. For Tebiskin products, please email info@perfectskinsolutions.co.uk and we will try our best to arrange this.
I have a question. Where do I send it to?
Please send us any questions you might have to info@perfectskinsolutions.co.uk and we will answer as soon as we can.
Can you tell me more about the tests please? 
We have compiled a thorough information document and decision-making guide on Coronavirus testing. SARS-CoV-2 is the virus that causes COVID19 and there are a number of tests eg Roche and Abbott tests. We have selected a lab test that has an assay which delivers 100% specificity for both the PCR swab test (looks for presence of the virus) and IgG antibody test (looks for signs of immunity ie presence of IgG antibodies in your blood). We have been asked how we can provide such cheap coronavirus testing (IgG test is 95 pounds). We are only aiming to cover basic operational costs as we feel the more patients who have this test, the easier it will be to know who is a potential at-risk patient and who is not. Email info@perfectskinsolutions.co.uk to receive the information guide to testing.