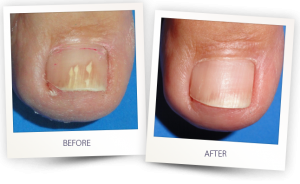 ClearChoice advantages:
Fast and Easy Therapy – Pre set protocols make this a fast and effective treatment.
Non toxic – There is no long-term side effects.
No systemic blood monitoring needed – Because the therapy is light-based and non toxic, you're not burdened by ongoing blood monitoring or other intensely monitored care.
Minimal Discomfort – We know that nothing's more important than your patient's comfort. If any treatment is intolerable, after all, patients won't come back. ClearChoice utilizes an In-Motion™ technique that gradually heats up the affected area. If a patient is uncomfortable the operator simply rests for second or two, then continues the therapy when the patient is ready. ClearChoice is a virtually painless alternative to painful nail fungus lasers.