ClearSkin
Defeating active acne, with lasting results.
Acne affects many of us at some point in our lives and can be a very challenging condition to treat.
ClearSkinTM is the first technology to combine a non-ablative laser with simultaneous contact cooling and vacuum technology to treat acne vulgaris safely and effectively.
The treatment is suitable for all skin types, has no side effects and achieves a smoother complexion with lasting results.
ClearSkinTM addresses all forms of acne vulgaris papules, pustules and nodules.  It will also leave your skin with a gentle rejuvenation effect and will reduce the appearance of acne scars with its ability to stimulate collagen within the skin.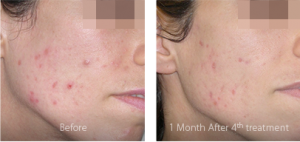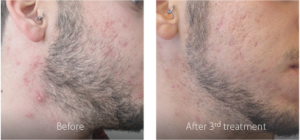 Courtesy of:
Prof. Moshe Lapidoth & Dr. Yael Politi
Procedure Time

20 minutes

Full Recovery

Immediate

Duration of Results

Up to a year
Back To Work Time

Immediate

Sensitivity Period

up to 48 hours

Anaesthetic

Not required
Risks & Complications

Rarely: soreness and skin irritation, swelling
Aftercare
Avoid sun or other prolonged UV exposure for 14 days to reduce the chance of hyperpigmentation or darker pigmentation. SPF and antioxidant protection must be worn post-treatment. You will be advised on suitable aftercare products.
Immediately after treatment your skin may be red with mild swelling. Applying a cool pack after treatment will help with any discomfort
Apply aloe vera gel to help soothe any sensitive skin
Makeup may be used immediately after the treatment (preferably iConceal) unless there is epidermal blistering
Avoid picking or scratching the treated skin
Avoid exercise, hot baths and any heat treatments for the first 24 hours
No exercise for 12 hours
No facial treatments for up to 7 days
FAQs
Am I suitable for treatment and how many will I need?
Most people will be suitable for this treatment however, a consultation is required prior to your desired treatment.
Treatment should be spaced 2-3 weeks apart for the initial course. A maintenance treatment every 6 months is recommended, along with your prescribed skincare regime by our skin practitioner.
How does it work?
The non-ablative Er:Glass 1540 nm laser deeply penetrates the skin, causing thermal damage to the sebaceous glands, destroying P. acnes bacteria and reducing sebum production, thereby getting to the root of your acne and giving you clearer skin. Non-ablative means it leaves the surface layer of the skin (epidermis) intact, thus, minimising side effects and downtime. The integrated vacuum mechanism extracts accumulated sebaceous material from the pores, whilst contact cooling protects the skin, reducing pain and allowing for safer and more effective treatment of the sebaceous glands within the dermis.
The laser also induces remodelling of the skin, secondary to thermal damage, thereby improving mild scars.