Tattoo Removal
Multi-Colour Tattoo Removal 
Laser tattoo removal is an extremely safe and effective way to remove unwanted tattoos.
We offer reputedly the world's best Q-Switched Nd:YAG 1064 nm laser technology; ideal for treating darker ink colours (black, blue and green) AND the 532 nm wavelength which is effective for brighter ink colours (red, orange and yellow).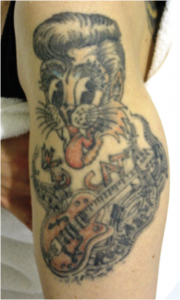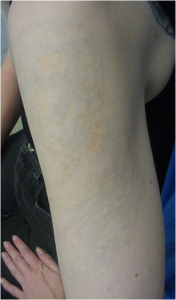 Courtesy of Dr. Stengel and P Gonzalez , Argentina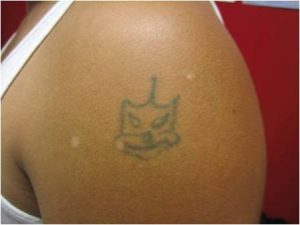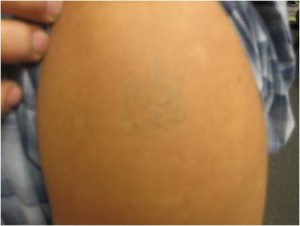 Courtesy of John Hamel MD , NC
Procedure Time

Variable on size of tattoo

Full Recovery

1-2 weeks

Duration of Results

Long term
Back To Work Time

Next day

Sensitivity Period

2 weeks

Anaesthetic

Numbing cream
Risks & Complications

Redness
Tenderness
Swelling
Blistering
Scabs
Bruising
Hyperpigmentation
Hypopigmentation
Prices
Prices from £55. Accurate pricing can only be given upon consultation.
Aftercare
Immediately following treatment, redness, swelling and a white crusting on the skins surface is normal.
Keep the area clean. Wash with soap and water, and dress twice daily for the first few days.
Petroleum jelly can be applied when needed to aid healing.
Avoid use of irritants, exfoliators or perfumed products on the area.
Avoid sunbeds and sun exposure while undergoing your course of treatments.
Avoid heat treatments e.g. hot baths/showers, steam rooms and saunas etc for 48- 72 hours immediately following treatment.
Do not pick or scratch the area or any scabbing.
For best results we recommend smoking is avoided throughout your course as this will affect the success of your treatments.
Treatments can be had every 6 to 12 weeks.
FAQs
How many treatments will I need?
This will depend on the depth and colour of the tattoo you have.  On average you will need a treatment 6-10 treatments.
Is laser tattoo removal suitable for me?
We can only confirm if this is the case after consultation and patch test. Almost all patients 18 years or over, can be treated with this type of laser.
Does tattoo removal hurt?
Most people find tattoo removal uncomfortable but tolerable and do not experience any high level of discomfort. Numbing cream can be used in conjunction with paracetamol. On the first treatment you will not be offered numbing cream and your level of discomfort can be used as a guide of application intensity, by the laser practitioner.
How tattoo removal works?
The laser injects the skin with intense light, which hits and breaks up the ink particles.  This causes the tattoo to fade with a minimal risk of scarring.
The laser used is harmless and will only target the pigmented skin.