Melasma Treatment
Our new Melasma treatment is a highly effective chemical dermabrasion treatment specifically used to treat hyperpigmentation disorders including melasma and chloasma. Using a combination of active ingredients, Me Line provides a strong control and inhibition action against melanin synthesis. Me Line also breaks down current pigmentation and increases epidermal turnover. This treatment suitable for ALL SKIN TYPES.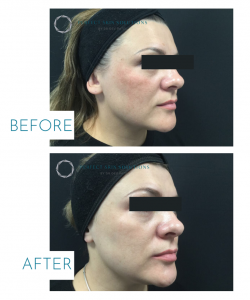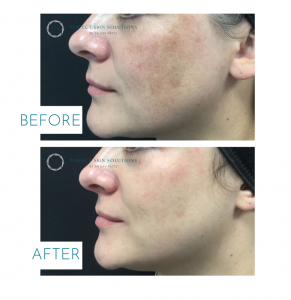 Procedure Time

45 - 60 minutes

Full Recovery

minimal but variable

Duration of Results

n/a
Back To Work Time

Immediately

Sensitivity Period

12-24 hours

Anaesthetic

n/a
Risks & Complications

Very rare, discussed during the consultation.
Prices
Melasma Treatment Protocol – £795
This includes:
3 in-clinic treatments
4 homecare products which will significantly enhance treatment results
Price – £795
Additional homecare products may need to be purchased throughout your course of treatment.
Aftercare
After your treatment you may notice that your skin is flushed, pink or red (almost like you have caught the sun that day) and your skin may also feel dry or tight. At or around day 3 post treatment you may experience some slight peeling or flaking. This is to be expected and will last 1 – 2 days. It is possible that you may have no peeling or flaking. If there is no peeling or flaking this does not mean that the peel is not working. The degree of skin peeling does not correlate with the success of the treatment.
It is important to wear SPF everyday post-procedure for at least 2 weeks and avoid products containing Retinol, Glycolic acid or any other exfoliating ingredients for the first week post-procedure.
Avoid physical activity until the following day.
Avoid heat treatments e.g. hot baths or showers, sauna and steam rooms for 24 hours post treatment.
FAQs
Am I a candidate for the new Melasma treatment?
This treatment is suitable for all skin types.
How long does the treatment take?
The procedure time takes no more than 60 minutes.
Is there any downtime?
Your skin may become dry and flaky following your treatment. You may experience some light skin shedding; this usually occurs 1 – 2 days after your treatment and can last for 3-4 days. Following your first treatment, you will be given an intense moisturiser which will help hydrate your skin during this stage.
How long do results last?
Results will vary depending on the individuals skin type and the type of pigmentation being treated. In most cases, patients with melasma will need to continue use of the homecare mask and/or receive future maintenance treatments in order to maintain their results.