Microblading
Microblading is a semi-permanent eyebrow procedure, for anyone looking to improve or enhance the appearance of their eyebrows.
Microblading is carried out by our qualified technician Katey who will work closely with you to design the perfect brow shape and colour for you.
Microblading works by pigment deposited into the superficial dermis of the skin which allows our technician to create bespoke, crisp hair strokes  giving you the look of natural eyebrow hair. Sparse or missing brows can also be completely restored with microblading.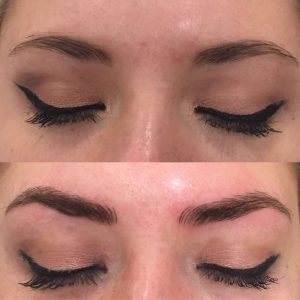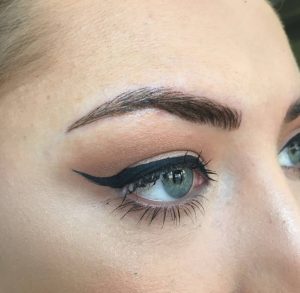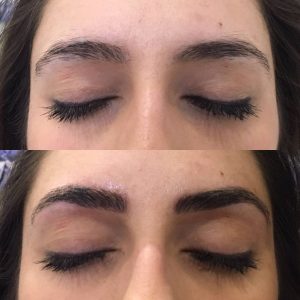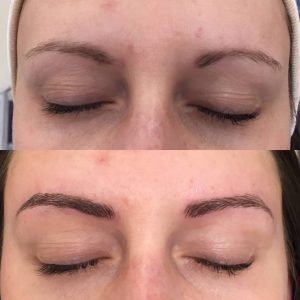 Please note a patch test is required at least 48 hours before the procedure.
Procedure Time

Two hours.

Full Recovery

Aftercare needed for 2-3 weeks.

Duration of Results

Durability can vary depending on skin type. This will be discussed at your consultation.
Back To Work Time

Immediate.

Sensitivity Period

24-48 hours.

Anaesthetic

Numbing cream.
Risks & Complications

Tenderness, redness and swelling.
Prices
Microblading treatment and top up £295.
(Please note we require a £25 deposit for your consultation and patch test which will later be refunded off the total cost)
Aftercare
To ensure efficient results and maintain your own safety over the next few days it is important for you to take care of yourself in regards to your treatment.
Immediately after treatment you will need to gently wash your eyebrows every 2 hours with the wash provided, you will then need to apply the cream provided also every 2 hours for the first day.
The immediate evening after treatment before bed, for the final time you will need to wash your eyebrows, apply the cream and put cling film over the eyebrows to allow the cream to soak in overnight (this can be secured with a head scarf, plasters or micropore tape).
Day 2 onwards, wash eyebrows morning and evening- with aftercare provided or own cleanser. And apply cream 4-5 times a day. You DO NOT want your brows to feel dry or flaky so apply the cream as much as needed.
For two to three weeks after treatment avoid:
Application of makeup on or over eyebrows
Swimming pools, saunas or steam rooms
Sunbathing or sunbeds
Fake tan
Difficult exercise with excessive sweating
Skin care products containing active ingredients
Rubbing or scratching the area
FAQs
What will they look like immediately after the procedure?
Your eyebrows may be a little swollen and red. They will be considerably darker for the first week, they will fade 30%-40% within the first two weeks.
Can I have mircoblading if I'm pregnant?
No you cannot have this treatment done, if you are pregnant or breastfeeding.