Neck Lift
Sagging skin on the neck gives a generally more aged appearance and is a very common complaint from men and women. There may also be stubborn fat pockets, making the area look even heavier. Using one or a combination of our Soft Surgery devices, we can lift, reduce fat and remove excess skin. Simply using PLEXR for excess neck skin can give a significant and visible improvement. 
Morpheus8 is a powerful, globally-renowned treatment to achieve superior skin tightening, lifting and contouring by restoring natural collagen and elastin and even smoothing down under-skin fat. Offered by Dr Dev Patel, renowned aesthetic doctor and Morpheus8 expert.
The underlying layers of the dermis are the building blocks to beautiful facial and body contours. At Perfect Skin Solutions, we are able to morph these building blocks with fractional skin treatments for a more natural and radiant looking contour.
FRACTIONAL REMODELING AND CONTOURING AT ITS BEST WITH MORPHEUS8.
The Morpheus8 is the first and only device to mould the fat sub-dermally that fractionally remodels and contours the face and body. Penetrating deep into the skin and fat, this morphs the ageing face or body into a more desired smooth and sleek appearance, for all skin tones. Non-surgical lifting of the face, neck or other areas, has never been safer and easier!
FDA approved
Moulds underlying FAT and morphs the AGEING facial features into a more youthful appearance
DEEPEST fractional technology
Safe on ALL skin types
Facial SKIN TIGHTENING, LIFTING & VOLUMISATION
Acne & other SCARRING
Skin IRREGULARITIES
Treats FINE LINES and WRINKLES
Improves SKIN TONE
CELLULITE treatment
BODY skin laxity
Although Morpheus8 achieves amazing results on its own, it can be combined with FaceTite, known as EmbraceRF. This delivers superior skin tightening and fat reduction in target areas such as under the chin, jawline and neck.
EMBRACE RF: The FaceTite 'No Knife Face Lift' is a combination of treatments. FaceTite, NeckTite, Lipomodelling and Morpheus8, when combined in a tailored package, can result in an extremely effective minimally invasive mini Facelift without scalpels, scars or surgery.
This procedure has even been adopted by some of the world's leading plastic surgeons as an alternative to a traditional surgical facelift. Requiring local anaesthetic only with minimal downtime, it is fast becoming the treatment of choice when surgery is not desired and/or when usual aesthetic treatments are not quite enough. This procedure provides a powerful lift and treats lower face and neck laxity, whilst shrinking unwanted fat, resulting in a sculpted appearance and overall rejuvenation.
FaceTite utilizes minimally invasive radio-frequency energy to melt fat and tighten skin. If you are due to have FaceTite you can opt to have a whole face/neck treatment of Morpheus8 for just a small supplementary fee. Morpheus8 operates from the same RF platform as FaceTite but the RF is introduced via micropins into the skin. Click on Morpheus 8 to learn more.  Please watch the animation below to see the FaceTite procedure in more detail.
NECK LIFT – Before (Left) and After (Right) [ONE treatment only]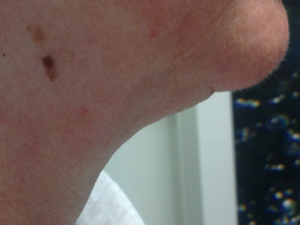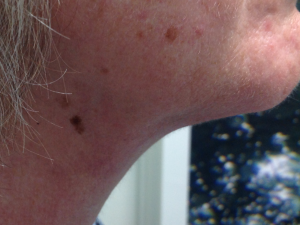 Dr Dev Patel's unique neck lift protocol.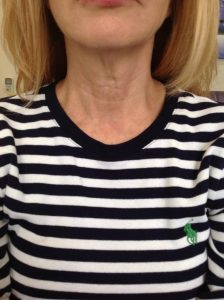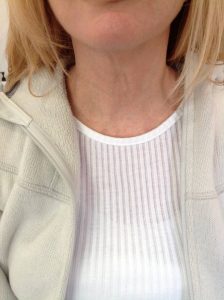 Procedure Time

N/A

Full Recovery

N/A

Duration of Results

N/A
Back To Work Time

N/A

Sensitivity Period

N/A

Anaesthetic

N/A
Risks & Complications

N/A
Prices
Portsmouth Clinic Prices:
PLEXR/ PLEXR PLUS
Facelift – Mini: £495   Maxi: £845
Necklift – £695 (if further treatment necessary; charged at £395)
MORPHEUS8  (0% interest payment plans available)
FACE & NECK
2-Step Protocol – £1800 (2 sessions; 3-8 weeks apart)
EMBRACE RF
Embrace RF (FaceTite/NeckTite with Morpheus8) – £3350
Additional 2nd Morpheus8 with Dr Patel – £350
Lower face and neck will be treated with both FaceTite/ NeckTite and Morpheus 8 at the same price if appropriate
Second Morpheus8 will be 6-12 weeks post first procedure
FAQs
What device does what?
In regards to the neck, the most common procedure required is with PLEXR, to reduce redundant skin. This tightens the area by physical removal of the skin, except no cutting or stitches are required. If superficial fat is an issue, we can employ O.F.F to dissolve and reduce this. If required, further augmentation of the result, can be achieved using Vibrance needle shaping, giving a lift. Click on the device tabs to learn more about these incredible treatment tools.
How many treatments will I need?
This is very variable and you really required a face-to-face consultation before a likely treatment plan can be devised. PLEXR was the first soft surgical device to be introduced to our clinic and for early to moderate excess of skin, one treatment has been enough for many patients to give a good cosmetic result. O.F.F and Vibrance require a course of 3 treatments and ideally 2 further sessions at month 4 and 6, to give longer term results.