Neck Lift
Sagging skin on the neck gives a generally more aged appearance and is a very common complaint from men and women. There may also be stubborn fat pockets, making the area look even heavier. Using one or a combination of our Soft Surgery devices, we can lift, reduce fat and remove excess skin. Simply using PLEXR for excess neck skin can give a significant and visible improvement. O.F.F can be used to remove excess fat and Vibrance Needle-Shaping is excellent for giving an added lift if required. Click on the FAQs below to learn more.
NECK LIFT – Before (Left) and After (Right) [ONE treatment only]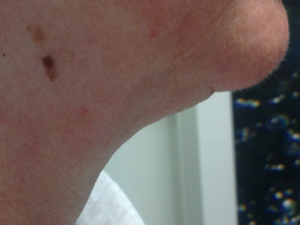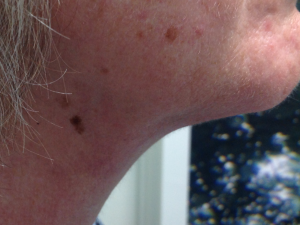 Dr Dev Patel's unique neck lift protocol.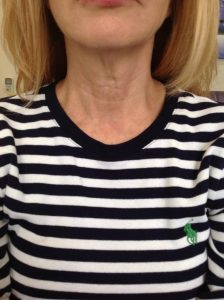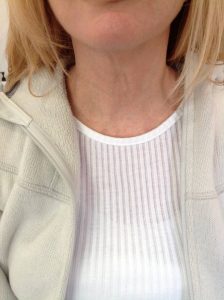 Procedure Time

N/A

Full Recovery

N/A

Duration of Results

N/A
Back To Work Time

N/A

Sensitivity Period

N/A

Anaesthetic

N/A
Risks & Complications

N/A
Prices
PLEXR Neck Lift – £595 for 1st session (2 additional sessions at £395 each, if required)
O.F.F Fat reduction (neck and chin) – £295/session (£750 for course of 3)
Vibrance Needle Shaping – £295/session (£750 for course of 3)
Combined O.F.F and Vibrance – £395/session, SAVING £195 (£995 for 3)
FAQs
What device does what?
In regards to the neck, the most common procedure required is with PLEXR, to reduce redundant skin. This tightens the area by physical removal of the skin, except no cutting or stitches are required. If superficial fat is an issue, we can employ O.F.F to dissolve and reduce this. If required, further augmentation of the result, can be achieved using Vibrance needle shaping, giving a lift. Click on the device tabs to learn more about these incredible treatment tools.
How many treatments will I need?
This is very variable and you really required a face-to-face consultation before a likely treatment plan can be devised. PLEXR was the first soft surgical device to be introduced to our clinic and for early to moderate excess of skin, one treatment has been enough for many patients to give a good cosmetic result. O.F.F and Vibrance require a course of 3 treatments and ideally 2 further sessions at month 4 and 6, to give longer term results.