Dr Dev Patel's signature approach in applying PLEXR®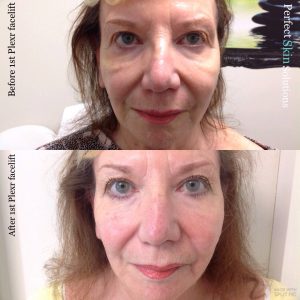 Dr Patel's signature approach in applying the OGEE lift.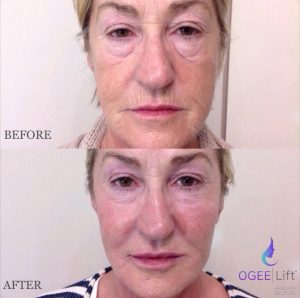 One of the key signs of ageing is "everything heads South" on the face. This applies primarily to the mid and lower face. Skin loses it elasticity and thins, leaving us with sagging and redundant skin. This is where Plexr offers a highly unique, non-surgical option to effectively remove this excess skin, giving a facelift. The other key component of ageing is "volume loss". This refers primarily shrinkage of the deep fat compartments of the face, which provide support to the skin above. The skin, having lost some of its support, migrates down the face, leading to sunken under eye areas, line to mouth folds (nasolabial folds), downturned mouth, jowls and more. This can be effectively addressed with either dermal fillers or Vibrance or indeed both. Lastly, superficial fat (not the deep fat mentioned above), can collect in little pockets eg jowls, under the chin, eye bags. We have quite a remarkable device – O.F.F. – which dissolves this fat in real time.
So with the above four treatment options, we can now safely and effectively address three key ageing factors and therefore achieve a non-surgical facelift. Furthermore, with full-face surgical facelifts costing around £16K, there is considerable cost-saving with the above options.
Please see our FAQs for more information. As with all our treatments, a thorough consultation is required for you to make an informed decision on treatment.