Nose Correction
As a central and prominent structure of the face, your nose is a key defining element of your beauty. In fact, only a few of us would actually admit that we are 100% happy with the shape of our nose.
For many people the thought of going under the knife is extremely scary, if you are apprehensive about surgery there may be a simple and quick, nonsurgical option for you. By using dermal fillers, our doctors can smooth out dents and bumps with results usually lasting 12-18 months. The filler is safely absorbed by the body over that time period.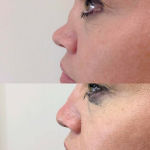 Procedure Time

15-30 minutes

Full Recovery

Usually nil

Duration of Results

12+ months
Back To Work Time

immediate

Sensitivity Period

12 hours

Anaesthetic

Usually none (numbing cream offered)
Risks & Complications

Bruising (discussed fully at consult)
Prices
Dermal filler – usually £350
Price may vary following consultation but this is the usual amount payable.
Aftercare
Avoid strenuous exercise or excessive sun exposure, for at least 48 hours post-treatment or until any swelling subsides
Avoid make-up for 24 hours to injected areas. If you must use this, please apply the iConceal or Oxygenetix medical foundation as it encourages the healing process.
Avoid firm rubbing of the treated area for 5 days
Avoid aspirin, St John's Wort or Non-Steroidal Anti-inflammatories eg Ibuprofen, for a few days post-treatment. If you require such medication for medical reasons, please check with your doctor before stopping