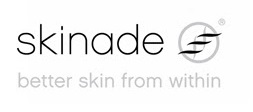 Working from the inside out, Skinade rebuilds and strengthens the collagen matrix below the skins surface, boosting natural levels of hydration and reducing fine lines and wrinkles.
Skinade contains the highest quality ingredients with NO artificial flavours, NO colourings and fewer than 35 CALORIES!
If you were to try and take Skinade's ingredients in tablet form, you'd need to swallow around twenty large tablets daily. Not only is this difficult, but the body also finds them tough to digest. The valuable nutrients would pass through your system unused instead of being absorbed by the body.
The collagen and essential ingredients in Skinade are in liquid formulation and 80% to 90% are absorbed by the body, while tablets offer an absorption rate of only 30% to 40%.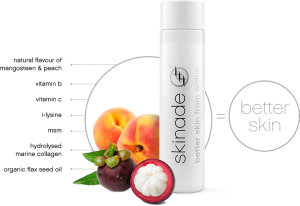 Benefits You Will See 
(Consumers have reported the following results)
4 to 6 days they begin to feel a difference in their skin: It is softer and more hydrated.
10 to 14 days they begin to see a visible difference in their skin: It is more uniform, smoother, radiant and glowing.
2 to 4 weeks skin starts to appear firmer and fuller with a noticeable reduction in fine lines and wrinkles.
4 to 6 weekly skin-renewal cycle, the improvements continue to build. Individual results will vary but, with continued use on a daily basis, your skin will continue to improve.
Benefits For Your Body
(Consumers have reported the following results)
Healthier, Stronger and faster-growing hair and nails
An improvement in the appearance of Cellulite