Perfect Skin Solutions have been Highly Commended For Best Clinic in the South at the Aesthetic Awards 2017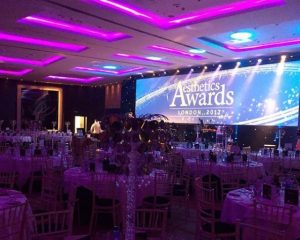 Saturday the 2nd December saw the annual Aesthetic Awards, a celebrated and respected publicised event, where the who's who of the aesthetic industry come together, to recognise and congratulate practitioners, brands and organisations who endorse best practice, offer medically compliant and outstanding customer service and who consistently uphold the most robust ethics. With 26 categories, including, titles such as 'Best Clinic' for different regions in the UK, The Annual Aesthetic Awards is a glittering and glamorous calendar event, not to miss!
The event was held at The Park Plaza Westminster Bridge Hotel in London's south bank and began with a lavish champagne reception where over 800 guests mingled, to catch up on all the latest industry news and gossip. An A La Carte meal followed along with the awards presentation themselves and comedy and dancing followed well in to the night.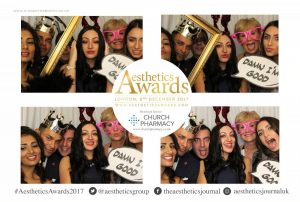 Dr Dev Patel, Nisha Patel, Francesca Muscat, Lia Chaib, Kathleen Rutter and Simon Dixon from Perfect Skin Solutions, all attended this lavish event, not only to join our piers in the celebrations, but to eagerly await the results of the IS Clinical award for best clinic in the south of England, a highly prized and coveted title. Perfect Skin Solutions came in Highly Commended, which was a huge achievement for us and only added to our extreme excitement for the evening.
Dr Patel was delighted with the result and commented "it is vital that these awards recognise high standards and performance in the industry, so that as practitioners and clinic owners, we can continually strive to be the very best that we can be and deliver superb results to our patients, who are, ultimately the most important people of all, when it comes to aesthetic procedures and good practice. Perfect Skin Solutions work as a close-knit team and I think this is definitely how we have achieved the 'Highly-Commended' status this evening".
The event was a huge success and new friends and colleagues were made as the celebrations went on late in to the night with music, dancing and stunning gowns worn by some very glamorous ladies, fitting for an industry which focuses on looking fabulous! Perfect Skin Solutions met and mingled with other clinics and practitioners as well as AlumierMD who sponsored the 'Best Clinic Group in UK And Ireland' award and a great time was had by all.
We are all very proud to have attended the Aesthetic Awards 2017 and are already planning to enter the 2018 event, with high hopes of yet another triumph!