face Condition
Flat Brows
Eyebrows are a deciding feature for the face and people often underestimate the importance of a gender and face-appropriate eyebrow. There are several defining features regarding the eyebrows which bring femininity (or masculinity) to the face; one of these is the perfect arch. We can deliver targeted treatment to take you closer to your ideal eyebrow position.

In the upper third of the face, the ageing process causes a gradual descent of the forehead and brow. In men and women, eyebrow malposition and excess hooding over the eyes reduce the eye aperture and give a fatigued appearance. An appropriate lift can open this frame and refresh the eye area. 
Through the years eyebrows have gone through different trends, now being no different. The 1930s saw a popular very thin high arched black pencilled-in brow, 1950s Audrey Hepburn brought into fashion a thicker fuller brow. The 2000s a very fair almost non-existent brow, to 2010s – the heavy thick dark scouse brow. Now it seems we have it right with a natural, thicker brow and elegant arch opening up the eye. We can deliver targeted treatments to take you closer to your ideal eyebrow position.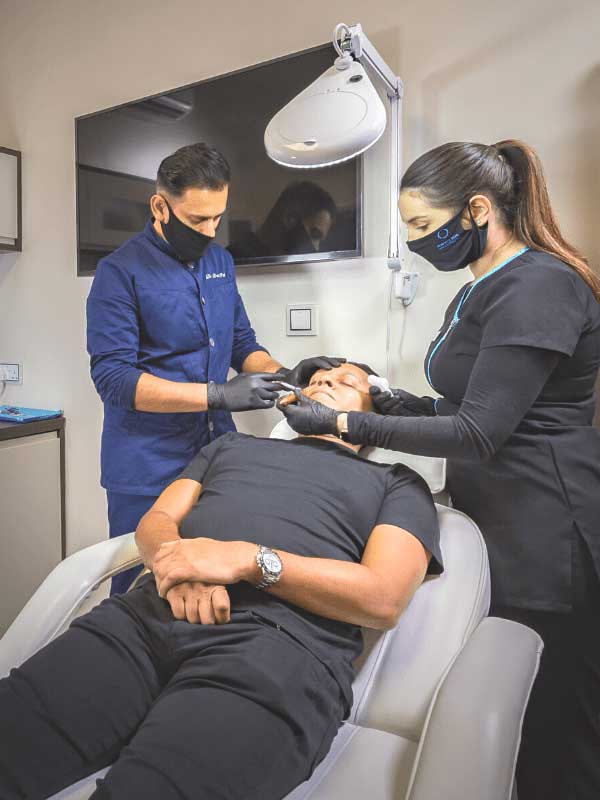 Why have your Flat Brows treated at Perfect Skin Solutions?
This is a complex issue with multiple factors at play, including fat and bone support. All of this must be considered to ensure the treatment plan is suitable for your face. Our doctors are experts in their field with delicate hands to assess and formulate a customised treatment plan and will also give you a realistic idea of what can be achieved.  
Below are possible treatment options but a consultation is essential to assess the multiple anatomical factors in play, along with the pros and cons of each option.  
Get in contact