face Condition
Baggy Eyelids
Baggy or hooded eyelids are often one of the more obvious signs of ageing and are commonly characterised by drooping or sagging skin around the eye area. As we age, our skin gradually loses its elasticity and begins to sag, but the effect is most obvious on our face — especially around the eyes.
Baggy or hooded eyelids are caused by a number of factors including age and skin damage. As we age, we lose collagen and elastin in the skin, causing it to sag and look wrinkled. This is especially apparent in the eye area as it is an area which is moving all the time due to us blinking, squinting and smiling throughout the day. Addressing this excess skin and improving its elasticity is key to the treatment of baggy eyelids. 
The body can also lose fat in the ageing process and this leads to hollow areas on the face which can make us look older. Our bones also lose density and when combined with this depletion of fat cells, can leave skin looking less plump and healthy. When combined with a reduction of skin quality, the eye area can be left looking tired, hollow and saggy. 
There are many of options for topical treatments and it can be all a little overwhelming for consumers to assess what actually works. We offer some award-winning skincare and in-clinic treatments which have been proven to improve the appearance of the eye area. If you are bothered by drooping eyelids or sagging, wrinkled skin around your eyes, both injectable treatments and soft surgical options can improve these issues.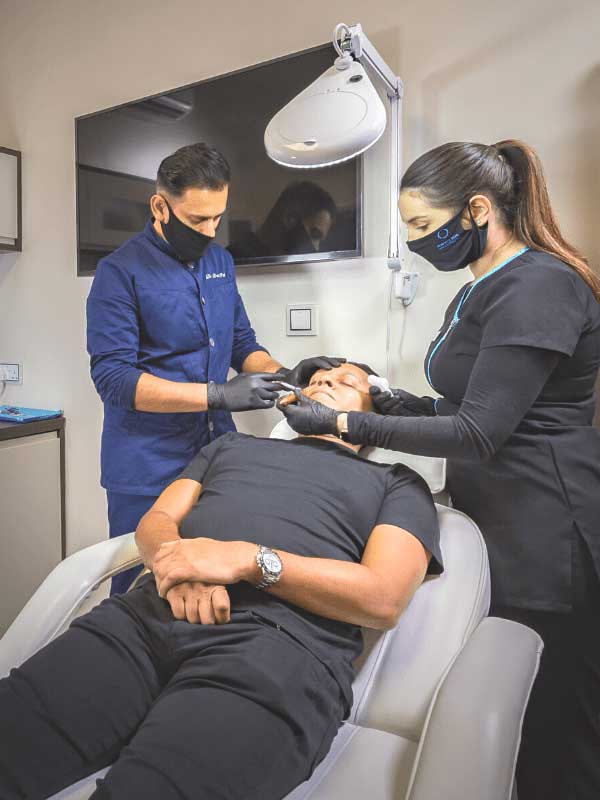 Why have your Baggy Eyelids treated at Perfect Skin Solutions?
At Perfect Skin Solutions, our doctors can offer several treatments including Plexr – a ground-breaking and patented innovation, opening a new and exciting frontier in the field of Medical Aesthetics. Dr Patel, was one of the first doctors to offer this revolutionary treatment and is one of the leading Doctors performing Plexr in the UK. 
Get in contact