face/skin Condition
Acne
Acne is a skin condition affecting many people at some point in their lives. Acne is caused by the pores and follicles becoming blocked. This can happen due to an overproduction of Sebum oil, hormone imbalance, growth of P.Acnes bacteria and a fast cellular turnover which causes a thickening of the skin. All of these things cause inflammation as well as transepidermal water loss leading to acne. Acne can present itself on the face and body and can sometimes be painful to touch.

Acne forms when pores become clogged with sebum, dead skin cells and bacteria. If the build occurs below the skin surface, this creates a "whitehead." If the build-up reaches the surface, a "blackhead" forms (the black is not actually dirt; it's bacteria which darkens when exposed to oxygen). 
Blocked pores can burst and cause the spread of bacteria causing more breakouts and blemishes. For this reason, you are encouraged not to attempt to pop or pick at any pimples and instead control the breakouts by following an appropriate skincare routine tailored specifically to acne-prone skin. Here at the clinic, we can offer some cost-effective options and expert advice on what products to use and to avoid.  
Many people suffer in silence from acne into their 30s and 40s; in fact, 20% of women and men continue to have acne beyond their teens but not all acne is the same; it is important that the treatment your skin receives is appropriate for your skin type and sub-type of acne. Your skin consultation will ensure you receive a tailored program which is individual to your exact needs and it is important to address the root cause of Acne to get visibly lasting results which boost the skin's health and reduce the psychological burden often caused by acne.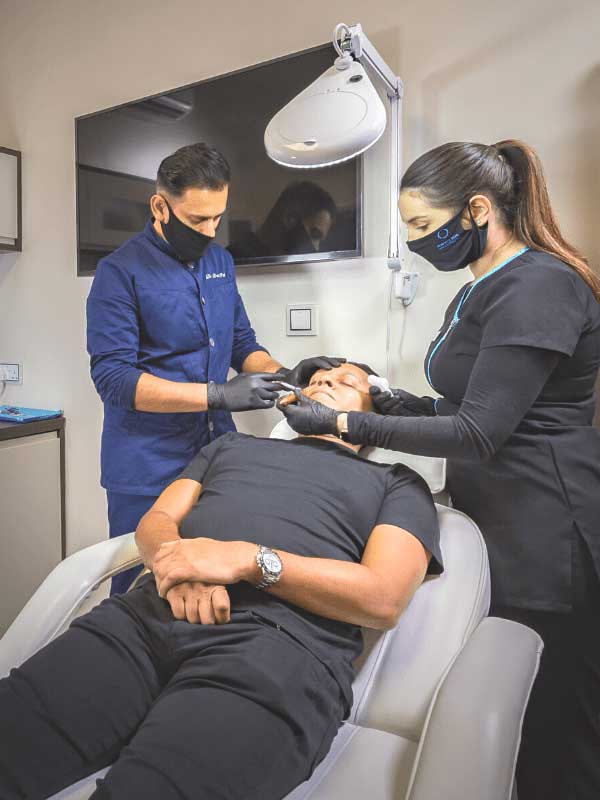 Why have your Acne treated at Perfect Skin Solutions?
Perfect Skin Solutions are proud to be an Acne and Rosacea Association UK (ARA UK) Accredited Treatment Centre. This allows us to confidently provide sufferers with the correct and accurate information, help and support in achieving the best results from their treatment.
We understand at Perfect Skin Solutions that acne can have a significant psychological impact on the sufferer. We only offer treatments which have clear and strong evidence of their effectiveness. Alternative medical treatments e.g. long-term oral antibiotics will be available via your GP and our doctors can discuss these options with you as well.
Many of our patients who have enjoyed highly satisfying skin clearance, have reported that it took them months or even years to seek alternative treatments such as skin peels, due to misconceptions they had. Not all peels are the same, just as not all cosmeceuticals are or indeed IPL machines.
We can now offer 8 key treatments to combat the processes in your skin causing acne including iPRF, Fractora and many more to help. With over 35 years of combined clinical experience, our team has confidence in the world-class products we offer. If you are suffering from skin problems such as acne, please do come and see us for a no-obligation skin consultation with our doctor or one of our aesthetic therapists. Even if it's just to get some sensible and balanced advice about how to better manage your skin and the treatment options we have available to help you achieve clearer skin. There is no obligation to book any treatments.
Get in contact