Careers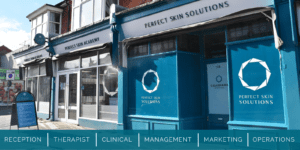 Here at Perfect Skin Solutions, the patient journey is of the utmost importance to us, so we strive to offer the best quality of care and a variety of treatments in an industry that is constantly moving and evolving. We provide cutting-edge, industry-leading treatments to our patients, using the latest technologies – and they always leave with a smile on their face. With our multi-award-winning clinic, our newly-established academy, and our upcoming skincare brand CellDerma, there are plenty of paths your career can take and the opportunities for growth are endless.  
We are one of the only Doctor-led aesthetic clinics in the south of England, meaning our clinical expertise always puts patient safety first and in an ethical way. We don't believe in the 'fake' look, we simply want to help everyone to feel happier in their skin and pave the way for their natural beauty to shine through. Also, our location is second to none: we are only a 5-minute drive to the beach, the train station is a 10-minute walk away with links to London and beyond, and we are close to shops, cafes, and the many businesses of Southsea's renowned Albert Road.  
What is it like to work at Perfect Skin Solutions? 
There is no average day at Perfect Skin Solutions but, for our colleagues, their day could start with a coffee when they arrive in the morning, having a friendly catch-up with colleagues, bringing in baked goods to share around, and contributing toward our friendly and fun atmosphere. If you're part of our Reception team, you could be greeting patients at the door, booking them in for treatments, offering knowledge on products, and catching up on our patients' latest holiday or house move. Or, you could be part of our award-winning Clinical team headed by Dr Dev Patel, our Medical Director. This could involve assisting in Doctor-led treatments, carrying out consultations, and performing key treatments such as Morpheus8 on your own patients, in addition to having a team of Therapists to discuss ideas and go for lunch with. You may even be part of the creative Marketing team; making videos, running our social media channels, or even editing our websites.  
Combined with an interesting and ever-changing job, we have several exciting events that come around yearly. In March we attend the Aesthetics Awards, dubbed the 'Oscars of Aesthetics', for which we travel to London, enjoy a three-course meal, and dress to impress. We also organise socials such as bowling, bingo and quizzes, as well as an annual summer event and a Christmas party, and you'll benefit from a number of perks including discounted treatments and products. Not only will you have the best treatments and products in the industry at your fingertips, but you'll be proud of the company you represent, too. 
What our colleagues say
Eleanor, Marketing
"I find the aesthetics world incredibly interesting as it is always changing and there are always new things to discover. It's also one of those jobs that will never become obsolete, it will always be around. I genuinely enjoy coming to work, I find the job exciting, the people are lovely and have become true friends, and I can see my career going up and up here. "
Bryony, Assistant Manager
"It makes me proud to be a part of a clinic and team that cares so much about its patients and, as a manager, I enjoy working with my team to improve the patient experience, develop new packages, and welcome patients existing and new through our doors. I love my days at the clinic – being able to check in with everyone, ensure everything is running smoothly, and witness first-hand the change our treatments make to people's lives – and I also love to bake, so I am one of the many people bringing in treats for everyone… and I enjoy doing it!"
Sarah, Aesthetic Therapist
I love my job as an Aesthetic Therapist at Perfect Skin Solutions. Every day is different as all of the patients and treatments vary. I enjoy being with the patient through every step of their skin journey and making a positive impact on their mental well-being. I also like being part of a solid team and have made some lifelong friends.     
Dionne, Senior Aesthetic Therapist
Perfect Skin Solutions is a fantastic clinic to work in. If you looking to expand your knowledge and work with the latest technologies, there isn't a better clinic. I would highly recommend working here all of the staff are really friendly and we all work as a great team. 
Susy, Reception
The team here are experts in their field and always have the patient at the forefront of everything we do. The team is also very supportive, encouraging and positive to be around. I enjoy meeting and greeting patients who come from all over the country. 
Careers Available
We are currently not recruiting for any roles. Please check back later.
Send your CV and cover letter to cm@perfectskinsolutions.co.uk