Non-surgical body contouring treatments Portsmouth 
Non–surgical body sculpting treatments in Portsmouth are on the rise. Body sculpting treatments in Portsmouth, Hampshire, typically refer to treatments that destroy fat cells, cellulite reduction Portsmouth and providing superior skin tightening – all without the need for invasive surgery. Some fat reduction Portsmouth procedures work by freezing the fat cells, using machines like Coolsculpting Portsmouth or Cristal Fat Freezing Portsmouth. Others use penetrated heat through Radio-Frequency body contouring treatments in Portsmouth or ultrasound therapy.   
The most popular areas for non–surgical body treatments, to achieve skin tightening Portsmouth and fat reduction Portsmouth are the abdomen, thighs, flanks, bra folds, upper arms or the love island bum lift. Many treatments claim to whip you into shape without endless sessions sweating it out in the gym, however when you chose to have non–surgical body treatments at Perfect Skin Solutions in Portsmouth, Hampshire, we advise regular exercise and a healthy diet alongside your body contouring treatments, Portsmouth, for best results.  
When visiting our Southsea clinic for a body contouring consultation, our body specialists will have an in-depth consultation in one of our air-conditioned clinical rooms, to find out your body needs. Whether it be fat loss, cellulite reduction Portsmouth, skin laxity, inch loss or skin tightening Portsmouth, we have a cellulite reduction treatment, Portsmouth, to fit your needs. Get the Love Island bum lift near you in Portsmouth, Hampshire. 
Here is what you need to know about the two main popular methods of non-surgical body contouring in Portsmouth, UK: 
First is Cryolypolisis Portsmouth, which is the medical name for treatments such as Coolsculpting Portsmouth or Cristal Fat Freezing Portsmouth. Below you can read more about this method. The second and increasingly popular method of body reshaping Portsmouth is Radio Frequency Portsmouth. At Perfect Skin Solutions in Southsea, we use InMode Evolve, Lipofirm PRO or Morpheus8 Portsmouth body machines.  
These two popular ways of body contouring Portsmouth differ on the way they eliminate fats. One uses cold and freezes the fat cells, while the other uses heat from Radio Frequency to eliminate and destroy the fats.  
Coolsculpting Portsmouth or Cristal Fat Freezing Portsmouth treatments work by exposing the fat cells to safe minus temperatures (up to – 9 degrees). This low temperature damages the fat cells and causes them to crystalise without affecting the surrounding skin.
The damaged cells are naturally metabolised by the immune, circulatory, and digestive systems of the body. Results are usually seen at around 3-6 months. Coolsculpting Portsmouth claims to destroy up to 25% of fat cells permanently per area but offers no skin tightening. It takes around 1 hour per area for a fat freezing procedure in Portsmouth and during this time you may experience sensations of pulling, tugging, mild pinching, intense cold, aching, or possible cramps at the treatment side. These sensations do tend to subside as the area becomes numb from the minus temperatures. 
Morpheus8, Lipofirm PRO and Evolve by InMode use RF energy to eliminate fat and tighten skin. Radio Frequency Portsmouth has two main functions – it can tighten skin and destroy fat cells. The RF waves penetrate the skin to tighten from the inside out. It also targets and penetrates the collagen fibres, resulting in tighter more youthful skin.  
Morpheus8 and Evolve by InMode can target stubborn fat cells with deep controlled heating. Where Fat Freezing offers up to 25% destruction of fat cells per area, Radio Frequency offers a 30% reduction in fat cells per area AND skin tightening by a minimum of 13.7%. During the treatment expect a gentle suction and warming as the vacuum pressure and radio frequency are performed together. The warmth is comparable to a hot stone massage, so no tugging, pulling, or stinging involved. There is very little to no downtime after a RF body contouring treatment, the skin will feel warm to touch for a few hours after. 
Perfect Skin Solutions now offers the latest radio frequency body contouring treatment called Evolve.  
Evolve is an innovative hands-free solution that maximises patient results and provides the highest quality of aesthetic treatments available. This all–in–one platform delivers multiple technologies on one system to remodel skin, target adipose tissue and tone muscles. 
There are 3 parts to the Evolve treatment. The first is Evolve Trim.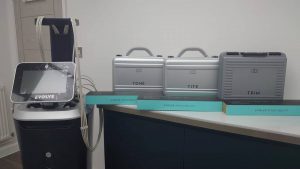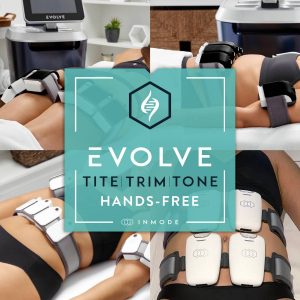 Trim offers 6 hands–free applicators which deliver RF energy and a tissue vacuum. The patented technology delivers a uniform thermal effect to the deepest layers of subcutaneous fat to provide the maximum results. The Trim part of the treatment is painless and takes around 20 minutes to complete.  
The second part of the Evolve treatment is Tite. Tite harnesses the power of RF energy to remodel skin and improve its appearance. The 8 hands–free applicators deliver uniform and volumetric heating to the skin and sub-dermal layer, to provide superior skin tightening.  
The third and final part of Evolve is Tone. This is customisable hands–free muscle toning. Evolve Tone works by emitting electrical muscle stimulation (EMS) to stimulate involuntary muscle contractions. Tone's 4 hands–free applicators target specific muscle groups to refine the appearance and strength of the muscle.  
Our Aesthetic Therapists are offering complimentary Evolve consultations now.  
Treatments like Coolsculpting have been on the market for many years now, but with a longer wait time for the results, more downtime and side effects during the treatment, Radio frequency Portsmouth treatments are becoming the more popular choice due to the relaxing nature of the treatment and the ability to tighten skin as well as reduce fat.  
To find out more about body contouring services in Southsea, Portsmouth, contact Perfect Skin Solutions on 02392 754 777 and our friendly reception team will book you a complimentary consultation with one of our highly trained Aesthetic Therapists.