In The Life Of Dr Dev Patel
In The Life Of Dr Dev Patel
The clinic owner and Merz Innovation Partner talks about his new skincare range and how he balances his work/life schedule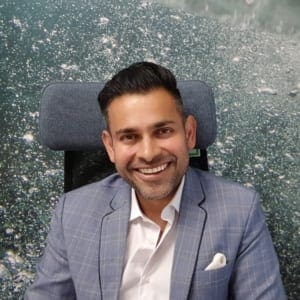 A healthy morning…
On Mondays and Thursdays, I wake up at 6.15am and arrive at the gym for 7am to exercise under the watchful eye of my personal trainer, who I have been with for more than 10 years. On other weekday mornings I'm a bit lazier and spend an extra 30 minutes in bed. I do 20 minutes of Surya Namaskar (sun salutes) and yoga breathing exercises, which my mother as a long-time yoga practitioner, has always encouraged me to do. I also make sure I never miss breakfast! Typically, I have spiced
Indian-style scrambled eggs and a slice of toast. I'm a big chilli fan, so by the time breakfast is over I would have eaten one-to-two green chillies.
Luckily, my clinic Perfect Skin Solutions located in Portsmouth, is only a few minutes away from my house. Ideally, I would cycle to work but as my bike was recently stolen, I have been using my car! On arrival, I eyeball the clinic inside and out as I want to maintain a flawless presentation — a piece of debris on the floor or a wonky sign — the details matter. A brief hello to my team and I'm into a full clinic with my first patient.
Working with my team…
At the clinic, I always work alongside an aesthetic therapist. We have six therapists currently who are on rota to be my assistant when conducting aesthetic treatments. I can give more focused attention to my patients, while my assistant conducts all the routine paperwork. During all treatments, the therapist offers a second pair of hands to help reduce bruising risk and improve the comfort level of the patient. My assistant and I will work in near silence during treatments as I prefer to have my patients drift into a calm state, and therefore we communicate largely through non-verbal communication, which takes around three months to perfect! Half of my day consists of administering injectables, and then the other half involves a mix of scar treatments to non-surgical blepharoplasties.
I make sure that I never miss lunch. I have 45 minutes set aside but inevitably, with all the messages and questions from team members, it usually ends up being 10-15 minutes. My father (also a doctor) made me promise to always take lunch and have at least 15 minutes away from my desk, which I always abide by.
Incorporating other work commitments into my schedule…
At the start of the third lockdown, I decided that I needed to make some changes to my working schedule for my mental health. I dropped my clinical sessions on Thursdays and made it an 'admin' day. Half of my day is focused on my new bioceutical skincare line CellDerma, which launched in my clinic in December 2020. It has exceeded my expectations regarding the clinical outcomes we are seeing, particularly with our GF5 serum, which has reduced healing time after ablative procedures and the number of calls we get from patients concerned with their recovery.
Another work commitment I love outside of seeing patients is working with Merz Aesthetics. The deep ethics of the company is something I admire. Becoming a Merz Innovation Partner was an amazing achievement! Merz have drop-in morning workshops every month for one of their injectable products, so practitioners who are thinking of adopting the product or using it can have their questions answered.
Practitioners have 15 minutes with two Innovation Partners, along with someone medical from the Merz team for them to ask product specific questions.
A big game-changer for me in getting good patient results was when I started to use Merz's dermal filler Radiesse® in 2013, which at first I used cautiously, but became more confident with time. Its ability to stimulate collagen and elastin production means that long after the filler has gone, my patient is still looking better post-treatment.
Most memorable day…
In my medical career, my time in the Royal Navy was very special. You could give me any month and year and I could tell you an interesting anecdote and where I was in the world. When I left the Navy and became a GP, I was told that 'one day would blend into the next' and I did find this. However, within aesthetics, each year is memorable! There has been an acceleration and development of my knowledge and ability so there have been many milestones. If I had to pick one memorable moment it would have to be winning The Intraline Award for Best Clinic South England at the Aesthetics Awards. Gaining recognition of peers in such a tough arena was emotional.
Favourite treatment to perform…
Dermal fillers! Although there are long-term benefits and improvements for the patient, there is an immediacy to it. Check out the Magic Mirror Moments series on my social media!
Career if you weren't in aesthetics…
I'd be a lawyer – I like to argue a case. Or something else in the military, maybe a pilot! I aspire to get my pilot's license in the future.
Any hobbies…
I have just joined a local rowing club. I also enjoy spending time with family, seeing friends and walking the dog.
This article is sponsored by Merz Aesthetics