Save Face
Did you know we are Save Face accredited?
Here at Perfect Skin Solutions we are incredibly proud to be entering our 4th year of being a Save Face accredited clinic!
For anyone considering Aesthetic procedures it is important to make sure you do your research, not only on the procedure itself, but the clinic and its practitioners.
Save Face is a national register of Accredited practitioners who provide non-surgical cosmetic treatments. By being certified with Save Face we at Perfect Skins Solutions are registered under the Professional Standards Authority which is recognized by the Government, The Department of Health, NHS England and The Care Quality Commission.
THIS ALSO ENSURES THAT WE ARE: 
Who we say we are
Have registered Doctors and Aesthetic Practitioners with specialist training and insurance in each treatment listed
Using licensed products sourced from reputable suppliers
Have all of the necessary paperwork in place to protect you from undue risk and harm
Meeting the requirements to provide you with safe treatments, in a safe, clean environment.
Whilst the Medical Aesthetic Industry remains poorly regulated – especially in the eyes of the law – we practitioners and clinic owners must do all we can to proactively promote safer practice. We must also voluntarily submit ourselves to industry-specific regulatory checks from an external body. Save Face provides just that and it, as an organisation, has built up a huge momentum in the quest for safer and more ethical practice. We are therefore proud to be in our 3rd year of Save Face membership, having had excellent feedback from previous inspections.

– Dr Dev Patel, Medical Director, Perfect Skin Solutions.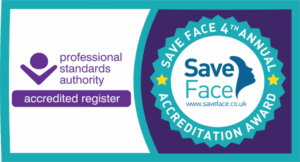 See below how Dr Christian explains the importance of why you should use Save Face to select a treatment provider and what it means to be Save Face accredited…